UAARC meets the second Monday of the month at 7:00PM
in the Upshur Rural Electric Coop auditorium
1200 W. Tyler St., Gilmer, TX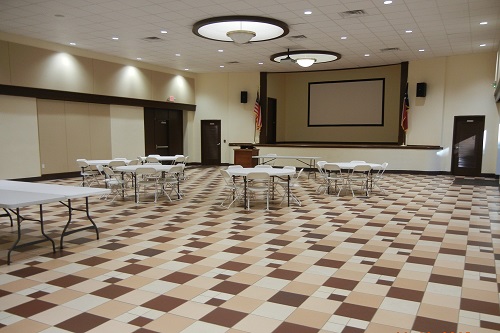 February 14 is next club meeting. We invite everyone interested in Amateur Radio, licensed or not, to join us.

Please make an effort to attend February meeting – we will vote on 2022 Vice President.
Dues need to be paid by February meeting in order to vote.

Also, your dues and participation are critical to the club's success!!

Program will be announced here soon. We also will have a discussion on our VE program.


Programs to come:
February 2022 will be Officer Elections
QSL Card Design Contest
WINNER – KG5SVM, William
Members selected this design with a small state of Texas map above "RST".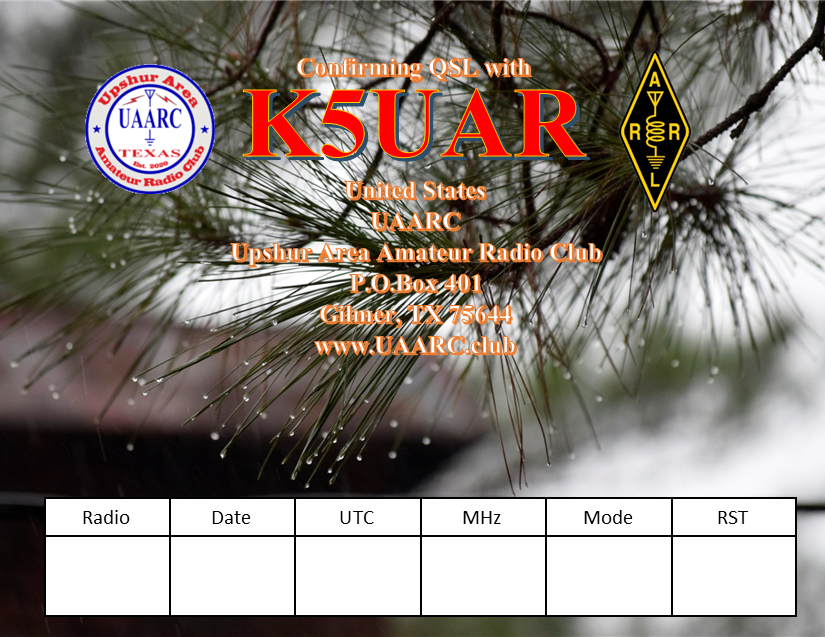 UAARC News
January 11
Outstanding meeting! One new member and 18 renewed members! We met Chris KI5OMH who takes on the role of Upshur County Coordinator for Upshur County ARES and Bill KI5TCK who also joined ARES.

We had an outstanding slide show presentation by William KG5SAV and Jeff KI5OVZ on Parks On The Air. We will plan a club activation soon, as they already registered K5UAR with POTA.

Tony brought all the refreshments we needed and they were very good. Debbie, KI5BHT presented John W5BWC and Jo Ann KA5AZK a very nicely framed picture of 2021 Field Day participants as a thank you for hosting FD.

December 13
We had a good time even though all did not go as planned. Our Secretary/Treasurer turned up with the flu. She had our special door prize, special presentation and decorations. She really hated missing the meeting, as did we missing her.

But, still a good time as we presented URECC with a check for the Scholarship Fund and Matt, W5MSM a certificate of appreciation for his digital projector donation to the club.

We had wonderful Christmas treats that everyone brought. We set up tables so we could relax as we ate and visited. Door prizes were a little short but we passed them out to both Hams and spouses.

November 8
We had a really nice meeting with lots of folks present and one new member and one upgrade!! Time to pay dues for 2022, which we need to do before February Officer Elections. William first Club QSL design won the contest – CONGRATULATIONS to him and thanks for the really nice design!
William also presented a slide show of 20212 UAARC Field Day, along with some humorous dialog.
October 11
We had a nice informal club meeting because we did not have a quorum present. Illness (non-Covid) and pressing engagements disrupted our event.

However, Jerry, WA5OKO presented an interesting program that demonstrated how the wrong coax connectors can degrade a UHF feed-line.

As always the refreshments and time to visit made it a lot of fun.

September 14
Steve L. Smith KG5VK our ARRL North Texas Section Manager did a great job introducing himself and the ARRL to us. He described some really good things now taking place at HQ.

KA5AZK, Jo Ann was presented with the ARRL NTX Section Ham of the year award for 2020. Presentation was delayed due to the virus. More to come on this.

We had visitors from LETARC – really good to see those folks! and two new members; welcome KI5OVZ Jeff and KI5OWB Janice!

August 24
Shreveport NWS will present Fall SKYWARN Training
See ARES Tab for details

August 10
We had a good meeting that ran a little late, but URECC did not kick us out, so we all got our visiting done. We have two new members, welcome to Buddy, W5DW as a Full member and Emily, our Club Photographer as an Associate Member. The ARS Grounding and Lightning Protection was presented by W5BWC, John. The booklet used is on my website if you wish to download it.

July 28 New Items on the Classified Page – HF station for sale
July 20
ARRL posted the UAARC FD Entry as complete. No further documentation needed.

July 13
Best part of last night's club meeting was the refreshments! We had two new members (renewing members) and a special guest; the Newsletter Editor for LETARC, Don KG5CMS. We were all glad to meet him and enjoyed visiting.

The club members reviewed our Field Day Summary and enjoyed talking about the fun we had. We voted to have a QSL card contest for K5UAR. Everyone is invited to design a card and enter it into the voting, probably at the September meeting. The members will choose our new card design.

Tommy Brooks offered to work on a certificate for us to send to select contacts during FD that documents the contact as UAARC first FD.

Our VP, Matt W5MSM announced up coming programs and told everyone to be thinking about a Home-brew night to be held as the club program sometime in the Spring of 2022.

Several folks are interested in another Club outing before next FD. Suggestions were; Winter FD, Parks on the Air, Yamboree and a seminar session with pot luck lunch or dinner. More to come on this…..

June 29
UAARC Field Day 2021 was an outstanding success!! We had 27 folks show up, good weather, food and fellowship. We even had a good time working around 240 stations. Details will be forthcoming shortly, we are still sorting out the Logs. You really missed out if you did not make the BBQ Brisket Dinner!
Read FD 2021 Summary


June 9
You missed a fun time if you did not make the Club meeting last night!! We had excellent refreshments prepared by KE5VJH and a new stainless steel coffee pot for much better tasting coffee.

The program was a discussion of, and final preparations for, the upcoming Field Day operation. All the identified items needed for FD have been offered by club members, so it looks like we are all set. The links below show who and what on Supplies and Menu Items.

Visitors are welcome anytime during the 24 hour period of operation starting at 1300 Local. If you wish to participate in the BBQ Brisket Dinner at 1900 on June 26 please see the link in the earlier text below. We need to know how many will be in the chow hall.

May 18
The club members have voted to participate in Field Day 2021. We will conduct an actual FD Exercise by operating from a temporary set up in the field in front of W5BWC's shop and barn. We will use generator power, portable antennas and operate Class 1A (one transmitter using emergency power and non-permanent antenna). We are also allowed to operate a VHF station in addition to our single HF station and still be 1A. While we will meet all the requirements for a remote location, we will have rest room, A/C office, large shop bay, etc. available near by.

We plan to have a family BBQ Brisket Dinner around 1900 Local on Saturday June 26. If you are willing to help, donate or loan items, would like to operate or enjoy the BBQ please let me know at jlk@bwcelectronics.com If you are willing to bring side dishes or food please contact Jo Ann at jkeith@etex.net.

We will be discussing FD on the ARES nets every Thursday evening on the K5UAR repeater at 2000 Local, everyone licensed to operate on 2M is invited to join us, you do not need to be a member. As you see above the June UAARC meeting will finalize the preparations. The FD Lists are available at the following links:
FD K5UAR Operator's Schedule
FD Supplies
FD Dinner RSVP List
FD Menu – items to bring

ARRL Field Day Rules

May 11
The May club meeting was very interesting and productive, you missed a good time if you were not able to make it. Tommy, KG5ZSU presented a program on open wire, twin lead and coax feed-lines.

We had refreshments by the Mannings, K5GDM and KT8TOR which include fresh fruit and cookies. We cut the refreshments a little short when Gary, SKYWARN Coordinator warned us of approaching TS.

The business meeting accomplished several things. Club voted to obtain ARRL Liability Insurance, to hold FD at KA5AZK and W5BWC place and have a BBQ Brisket Dinner on Saturday of FD. FD is June 26 and 27.

Matt, W5MSM who is our VP, is donating an LCD Digital projector to the club. THANKS Matt!!

Lastly, our Application of April 21 to change our club call of KI5OYZ to K5UAR (for Upshur Amateur Radio) is still pending.



April 12
We had a great meeting this month with a really interesting 3D printer demo that included producing an actual part during the demo.

We still need a Field Day Coordinator. Considerable interest was shown, so the Coordinator will have folks willing to help, just need a leader. If you're interested please contact one of the officers listed on the CONTACT page.

March 31
UAARC has just received word that we have been approved for ARRL Affiliation!!

March 23
FIELD DAY 2021!! Several members have asked if we are participating in FD this year. The BOD agrees we shall!! We think the virus is contained sufficiently that setting up in an open area is low risk. Now, we need the Field Day Coordinator to step forward – hi. Seriously, we do need to start planning now. The first step is enlisting a FD Coordinator. If you are interested, please contact one of the officers. The Coordinator does not have to do all the work, just be sure all the work gets done. We also need folks who can help the Coordinator, again contact an officer if you are willing.


March 10
We had a wonderful meeting March 8, back in the URECC building. We presented Charter Membership Certificates, had a guest speaker, passed out 2021 membership cards, had on display club tee shirts for sale, as well as iron/sew on patches and a large spread of cold cuts, sausage and cheese and Welcome Back cake. We had fellowship (eyeball QSOs) late into the evening. Also have three new members that have never been to the club before.

Be sure to plan on making the April meeting. We'll have a good time again.

February 23

In person club meeting!!! March 8 at 7:00 PM in Upshur Rural Electric Coop auditorium1200 W. Tyler St., Gilmer, TX. Be sure to make this meeting, we have a lot planned.

Main Trading in Paris, TX is planning a March 13 (2nd Saturday) Tail Gate Sale. Be sure to watch their website for details. It is planned to be from 7:00AM to 11:00AM.
February 9

The February club meeting was held last evening on the club repeater. We had 22 stations and a good meeting on the air. Hopefully, this will be the last of on-air meetings as it is looking good that we may return to the URECC.

We had a unanimous vote of acceptance for the nominated Club Officers, as listed below. Kelly KD5S remains the groups.io moderator for the club.

The remainder of the meeting was spent talking about the many activities that the club will undertake in 2021. Some of which are; meet in-person again, apply for ARRL Affiliation, present Charter Member Certificates, consider 2021 Field day, tail gate sale and many more. Lot's planned for 2021, so be sure to make the meetings to get "the rest of the story", as Paul Harvey use to say.

January 21

Nominations for UAARC Club Officers are complete. Only one person for each office was nominated. The nominees are;

PRESIDENT John L Keith, W5BWC
VICE-PRESIDENT Matt McIntosh, W5MSM
SECRETARY/TREASURER Debbie Collier, KI5BHT.

Any questions should be directed to the Nomination/Election Chairman – William, KG5SVM. Election information will be posted here so continue to watch for updates.

January 12

During the January 11, 2021 on-air club meeting, the By-Laws amendment to Article 5.1 was approved and will now read "Regular Club Meetings will be held once a month."
Continue to watch this page for updates on February meeting. We have plans to meet in person in URECC auditorium pending the availability of their staff and the safety of meeting in person.

Remember 2021 dues are payable by the February Club meeting and need to be paid before your ballot is counted. See "Contact" page for details.



January 4

Officer nominations are being taken by our Nomination Chairman, William KG5SVM at this time. If you wish to nominate a dues paying member for office, contact that person to be sure they are willing to run, if the person is, ask William to add their name to the nominees.

Election normally would be held at the February 8 Club meeting; however, most likely that meeting will be on the air. Therefore mail-in ballots, to the club PO Box, will be taken until March 1, 2021. Results will be announced at the March 8 club meeting.

October 26
The Upshur County repeater got a significant boost with an antenna party Saturday. We had a perfect crew of Jo Ann KA5AZK, Nancy KT8TOR, Gary K5GDM, George KG5UGY, Tommy KG5ZSU, Jim N5TQI, Garrett Manning no-call and John W5BWC.

The DB224-E that Jerry WA5OKO donated to us weighs 38 pounds. In order to raise it in the upright position, it required a nearly equal counterweight attached to the bottom, bringing the total weight to just under 80 pounds. Several hours were spent Saturday morning studying and designing the lift. After a quick lunch, the crew split into ground and tower members. The first task after settling in atop the tower was to raise a gin pole and mount it. Next the tower crew disconnected the Ringo Ranger for the ground crew to lower.

Next, the ground crew raised the DB224, now 40 feet long to the upright position, where the counterweight kept it for the trip up the tower. The tower crew clamped it into place atop the tower. Testing yesterday after the installation showed a 13 dB improvement in receive performance. We may need to increase the transmit power if we see the repeater now hears better than it talks.

Many thanks to the antenna party, and if you get the chance be sure to tell them so! Please try the new antenna from you QTH and mobile as you can.
October 14. We had 17 in attendance at the club meeting and it was sure good to meet in person again. We voted on the club logo, had a program by Kelly KD5S on Fox Hunting which he will conclude at the November meeting, and great cookies, sausage/cheese and crackers supplied by our newly appointed Refreshment Chairperson, Jo Ann KA5AZK.

The club needs a photographer, if interested contact an officer or use the contact email on this website. Jo Ann KA5AZK took a charter member picture and 2020 officers picture. We make take another Charter Member picture at the December meeting, so make plans now to be there. See sidebar for meeting dates and times.

September 8. The club meeting was held using WebEx with 14 in attendance. Kelly, KD5S hosted the meeting and provided the program on lightning safety. See groups.io/uaarc for a link to that video.
Debbie, KI5BHT presented a logo contest. The club needs a logo for the webpage, groups.io, caps, vest, tee shirts, etc.. Please submit your design to Debbie or the club's email (on the contact page) before October 9, 2020. We will vote on the designs at the October 12 (MONDAY) evening meeting.
The UAARC now has 21 dues paying members. Remember you have until the end of the year to pay your dues to become a charter member. However, to receive your Charter Member Certificate at the December Christmas party (club meeting) please pay your dues by no latter than the end of November, otherwise you will not receive your certificate until January 2021.
The UAARC Board of Directors met Aug. 18, 2020 for the first time. Minutes of the meeting will be on the Meeting Minutes page but the short version follows.

The main topic was how to resume eyeball meetings, which everyone seems to miss. For the September club meeting, Kelly KD5S offered to host a WebEx video conference. This is a secure Cisco product which will allow us to see one another again! For October, with cooling WX, it is thought we may have an outdoor meeting.

The next big news item is this website. The BOD approved the proposed url https://www.uarc.club which has now been donated to the club. The url ownership will remain with the officers, keeping it separate from the website developer.

The Secretary/Treasurer, Debbie KI5BHT has already secured the club's mailing address and donated the box rent. She also will announce a club logo contest at the September meeting, so be there to join in on that project.

Remember to pay your prorated dues before the December meeting.


WA5OKO Antenna Donation

Another big news item – Jerry Ritchie WA5OKO has donated a factory new DB224-E to the club. This is a very significant donation, one that would make well established clubs drool, much less our start-up club. This is a professional-grade Andrews (now Commscope) VHF antenna for the Upshur County Repeater. Who's up for an antenna party??
WA5OKO Repeater Donation

After Jerry donated a DB224-E to the club he came into possession of a new Bridge Com BCR-50V VHF Repeater to which he donated to the club!

The repeater was put on the air by Jerry WA5OKO and John W5BWC 9-15-20. The repeater came factory programmed, Jerry set deviation on his Service Monitor and it was ready to go on the air.
The Upshur ARES net used it for the first time 9-17-19 with excellent results. Any club would be thrilled to have this repeater, but we certainly are and owe Jerry a big Thank You!!