UAARC meets the second Monday of the month at 7:00PM
in the Upshur Rural Electric Coop auditorium
1200 W. Tyler St., Gilmer, TX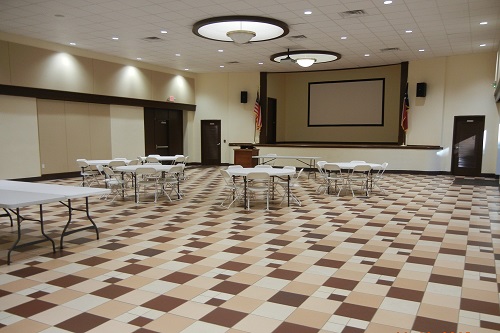 October Club Meeting is At URECC auditorium on Monday Oct. 12
UAARC News
September 8. The club meeting was held using WebEx with 14 in attendance. Kelly, KD5S hosted the meeting and provided the program on lightning safety. See groups.io/uaarc for a link to that video.
Debbie, KI5BHT presented a logo contest. The club needs a logo for the webpage, groups.io, caps, vest, tee shirts, etc.. Please submit your design to Debbie or the club's email (on the contact page) before October 9, 2020. We will vote on the designs at the October 12 (MONDAY) evening meeting.
The UAARC now has 21 dues paying members. Remember you have until the end of the year to pay your dues to become a charter member. However, to receive your Charter Member Certificate at the December Christmas party (club meeting) please pay your dues by no latter than the end of November, otherwise you will not receive your certificate until January 2021.
The UAARC Board of Directors met Aug. 18, 2020 for the first time. Minutes of the meeting will be on the Meeting Minutes page but the short version follows.

The main topic was how to resume eyeball meetings, which everyone seems to miss. For the September club meeting, Kelly KD5S offered to host a WebEx video conference. This is a secure Cisco product which will allow us to see one another again! For October, with cooling WX, it is thought we may have an outdoor meeting.

The next big news item is this website. The BOD approved the proposed url https://www.uarc.club which has now been donated to the club. The url ownership will remain with the officers, keeping it separate from the website developer.

The Secretary/Treasurer, Debbie KI5BHT has already secured the club's mailing address and donated the box rent. She also will announce a club logo contest at the September meeting, so be there to join in on that project.

Remember to pay your prorated dues before the December meeting.


WA5OKO Antenna Donation

Another big news item – Jerry Ritchie WA5OKO has donated a factory new DB224-E to the club. This is a very significant donation, one that would make well established clubs drool, much less our start-up club. This is a professional-grade Andrews (now Commscope) VHF antenna for the Upshur County Repeater. Who's up for an antenna party??
WA5OKO Repeater Donation

After Jerry donated a DB224-E to the club he came into possession of a new Bridge Com BCR-50V VHF Repeater to which he donated to the club!

The repeater was put on the air by Jerry WA5OKO and John W5BWC 9-15-20. The repeater came factory programmed, Jerry set deviation on his Service Monitor and it was ready to go on the air.
The Upshur ARES net used it for the first time 9-17-19 with excellent results. Any club would be thrilled to have this repeater, but we certainly are and owe Jerry a big Thank You!!